I was strolling in my garden the other day and I got to thinking about the best things about warmer months of spring and summer. While there is outdoor activity that makes summer feel special like barbecuing and swimming, it also has the same effect indoors. That's when a random thought came to mind, 'it truly feels like summer because my home is open to sunlight and fresh air'. It makes my house feel so calm and happy. Well, that prompted me to look for ways that I can create an illusion of space in my home, not only in summer and spring but throughout the year to give me the same positive vibe.
Ok, with that, it is easier said than done. You might think that a bigger house is the solution to your problem considering the worldly possessions you have, right? Wrong, you can still work with the space you have and make it feel larger. It doesn't always need to break the bank and make major renovations. There are sneaky ways you can incorporate the renovations and arrangement of things to give an illusion of space. Here are some tips:
Use mirrors
Use of mirrors to enlarges a space is the simplest and oldest trick in the book. Mirrors have a way of making your room look twice the size it actually is. They also have the ability to create an illusion of depth and length especially if placed at the end of a hallway. You can also place a mirror on the opposite of a window for it to reflect light, in turn, make the house brighter, therefore, more open. You can also instill a mirror slide door for your closet. In spite of its ability give an illusion of space, you can also play around with mirrors as appealing accessories.
Conservative furniture
Investing in conservative furniture doesn't mean you don't have to live big. The heart wants what it wants. With this in mind, take advantage of what you need with what the market has to offer. There is a wide variety of furniture that saves on space and is trendy at the same time. It is important for you to understand your space and work with what you have. You can, for instance, invest in multipurpose purpose furniture that provides storage, function, and décor. A dining room table that has a storage adjacent or below is a great choice. Also, a storage ottoman that also serves as a coffee table is a good idea of creating space.
Interior color scheme
Your wall color has a great advantage of both transforming and creating an illusion of space to your home. Muted and dark colors always soften the space making it look small and serious. Whereas light, neutral colors give an illusion of space and airiness. To add height to your room, paint the ceiling one shade lighter than the walls. But if vibrant is not your thing, consider colors that are of a darker hue of the already used neutral color for an accent wall. An accent wall is a wall that is painted differently from the rest. Consider having the accent wall on the wall that has the most opening such as windows and doors. It will make the darker shade actually seem lighter because of the light. Moreover, you can use stripes to create an illusion of space by first creating an illusion of height or depth depending on whether they are vertical or horizontal.
Storage
The easiest way to achieve a stuffy and closed up space is by having clutter. For an illusion of space, you have to create a place for everything. This will, in turn, make your room look peaceful and organized which equals to space. Invest in decorative baskets. With these, you can place them at convenient corners and neatly place a throw blanket on top of it; doubling as a storage and decorating accessory. You can also invest in floating shelves, they are hugely underrated. When well instilled, they are sleek, neat, and functional. A creative way of creating storage and providing a classic wall decoration. You don't want to be overwhelming though, it will result in giving a chaotic vibe. They also add height to a room, especially those found right on top of a room.
Lighting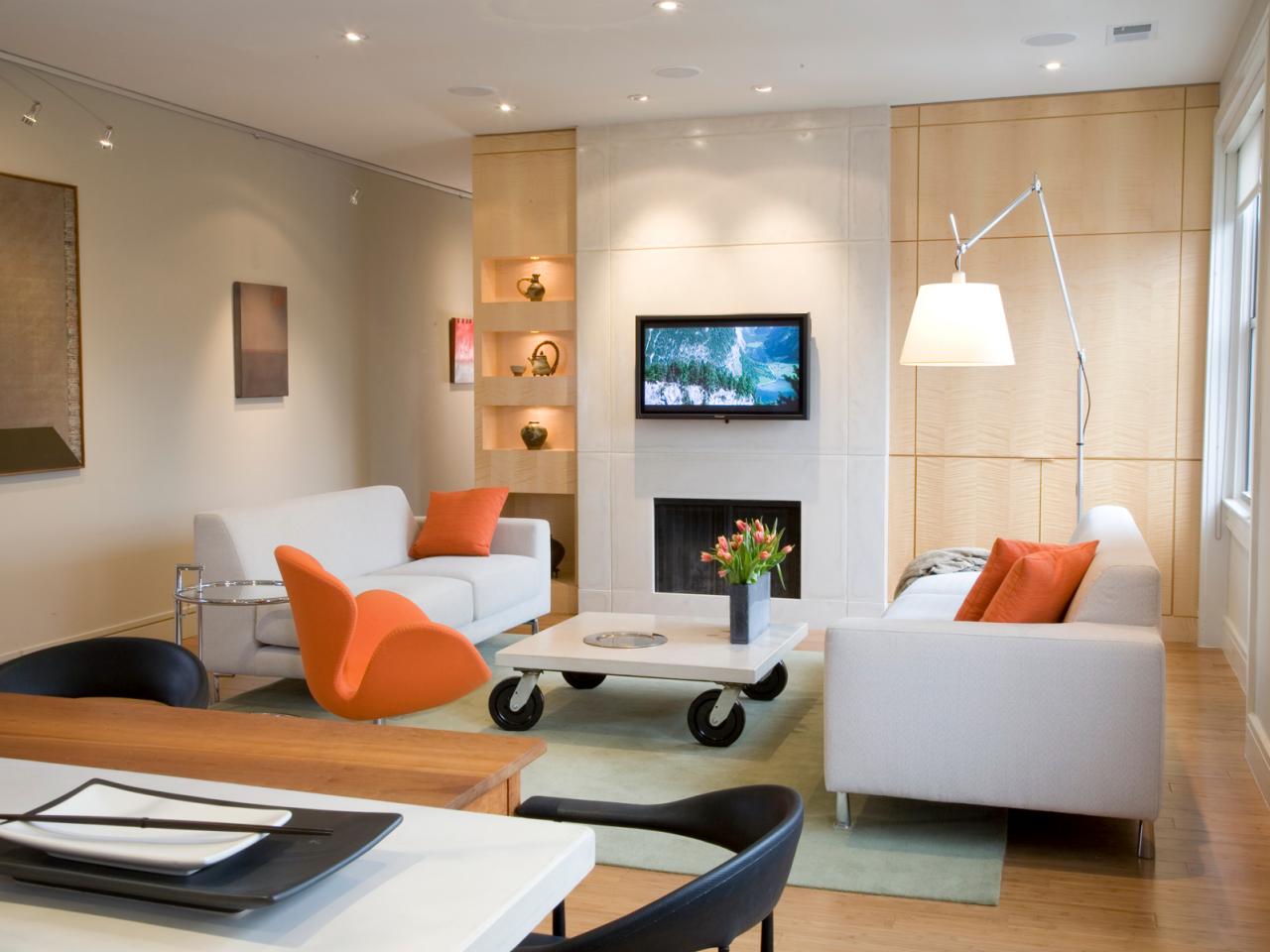 Illumination hugely influences the atmosphere of your home. You can make your home more inviting by using lights. According to your taste, whichever light fixture you go for, it will have a positive effect on your space. For example, if you only have one central light fixture, you can place some underneath shelves to 'eat up' shadows and make space look more open.
Space out your room
Most people make one mistake while arranging their furniture, they toss them against the wall. In doing this, it doesn't mean that your space will become larger, on the contrary, it will feel quite stuffy if you keep bumping into stuff. Therefore, it is advisable for you to leave some room between the wall and furniture. This will create a more spacious look. By spacing out your room, open furniture will look brilliant in the arrangement. This is because it automatically opens up the vertical space.
Let in natural light
Let in natural light as much as possible. You can easily achieve this by pushing back the drapes and opening up the windows. You can use light colored fabrics or sheer to diffuse harsh bright light. For permanent commitments, you can install in the ceiling a skylight or sun diffuser tube which will easily illuminate the space making it look bigger. You can also opt for a transom window on your front door to illuminate your entryway. For those who are not on board, a transom window is a window found right over the top of the front door making both the exterior and interior look taller and grander.This successfuly creates that illusion of space.
It doesn't matter the size of your floor, incorporate these tips and your room will automatically look as bigger as you desire. Your will create that powerful illusion of space that you desire.