As you are cleaning, do you clean those difficult places that are almost unnoticeable? Well, if no, you are not alone. Most people overlook these hard-to-reach places in the house assuming they can be cleaned more occasionally than others. Some pretend not to see the spots. As much as that is the sweeter truth to swallow, you must know that dust and dirt accumulate in those places too.
Over time, the place can harbor bacteria that can cause diseases that will affect your family. Come to think of it, the more you keep sweeping the problem under the rug, the worse time you will get when cleaning the spots. Eventually, unclean places will affect the general look of your home and you will be forced to do a top to bottom cleanup. No pressure though, the good news is, you don't have to do it daily. Here are some of the hard-to-reach places and how you can get them cleaned:-
Ceilings
Almost every human is prewired to fear spiders and snakes. Ceilings corners are notorious for hosting cobwebs, which of course, are home to spiders. The best and easiest option is to clean the place frequently and this just means to get a broom covered with lint-free cloth and wipe the ceiling. However, different rooms will require varying attention. For instance, kitchen splatters you will need to clean with a cleaner to get rid of existing grease. You can buy an all-purpose cleaner or make one for yourself. You can make the home solution by diluting white vinegar in a spray bottle with water. You can also regularly vacuum with the brush attachment to remove dust.
Fans and light fixtures
It's an easy decision to put off cleaning your fan and light fixtures. But just like any other appliances, they need occasional cleaning. They might not easily show dust and dirt, but can be damaging when left to accumulate for long. Especially fans, for they will spread the dust across the room, stimulating asthma. Light fixtures can accumulate webs and grease if in kitchen, which is a total turn off to anyone walking in your house.
To clean these high areas, of course, there's the traditional option of climbing the ladder. Though this might not be a good idea especially if you are alone and you have to cautiously balance yourself as you stretch to clean. The easiest way to do it is by acquiring a long-handled duster. Magnetic or swifter will work perfectly and most can wrap around the blades and fixtures. You can also use a vacuum if it has a dusting attachment.
Cabinets Tops

Dust hugely accumulates on top of cabinets when you forget it exists. Please make your mother proud by cleaning both the top and inside of your cabinets. There's no shortcut to it. There is nothing that makes a person cringe harder than wanting to get something from your cabinet and finds it filled with cobwebs and dust. And it gets personal if it is a glass of wine they needed. So save yourself the embarrassment. You will definitely have to clear items on top or inside the cabinet. Then depending on what you have, you can vacuum or wipe down the surfaces using a clean microfiber cloth. If there's grease in your kitchen cabinets, make a solution of ammonia or white vinegar, dishwashing soap and warm water. Using a lint-free cloth, wipe the surface, rinse then dry.
Cleaning the floor beneath the furniture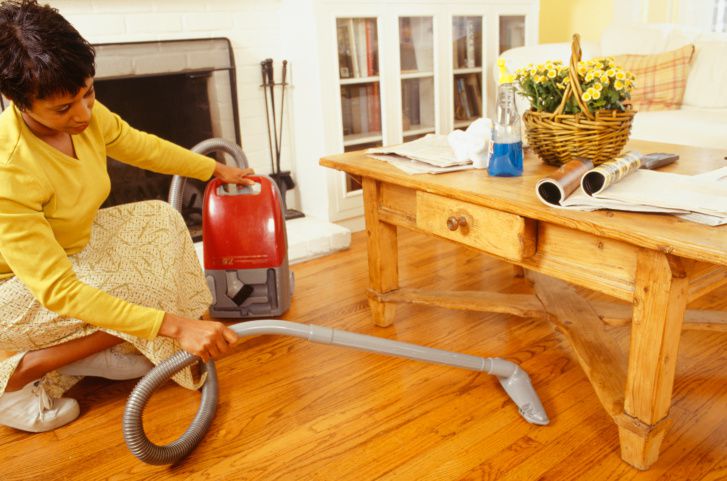 Who removes their furniture every time they sweep? I mean, no one has the time. But it becomes another issue if you totally don't do it over a long period. The simplest alternative is getting a handle or vacuum cleaner that can get the job done. But this is not always effective, mostly with very low furniture. Since you have made it intentional to clean your home, call some friends or family to help you lift the furniture. This will also make the experience fun as you snort at the colonies of dust bunnies underneath and retrieve the long-searched-and-forgotten remote.
Behind the toilet
This definitely can be considered as one of the hardest places to clean. Considering no one wants to clean the toilet, let alone talk about it. Apparently, this is one of those places you can't just ignore, it gets pretty gross. That is when you get some gloves and brush and scrub the surface behind the toilet including the wall. But if you are one of those people who doesn't like getting up-close and personal with it, you can acquire toilet bowl swab or take a normal toilet brush and wrap it with those really tough toilet paper towels.
Windows and door tracks
Windows and door tracks can collect an amazing amount of dirt and dust. Start by removing as much dirt as you can first. You can use an old soft toothbrush or vacuum. This will make it easier when a cleaner is introduced. Then spread some baking soda and pure vinegar on top of it. If it starts to bubble, it's a good sign. Then after five minutes, use a toothbrush to scrub the dirt. Get a wet microfiber cloth and wipe it through the track.
Computer keyboard
No matter what you do, maintaining a clean keyboard is tricky, let alone cleaning it. Frankly speaking, grimy keyboards are disgusting. If you have not cleaned your keyboard from the dark ages, start by shutting down the device. Turn the keyboard upside down and give it a good shake. After which, dust being a major issue, you can use soft-bristled dusting brush and swipe through it. You can as well acquire some compressed air or vacuum the keyboard. Finally deep some cotton swab in rubbing alcohol to clean in between and on top of the keys.
Heating and air conditioning vent
Majority of people ignore cleaning their heating and air conditioning vent. Therefore, you may consider removing it and horsing it first with water due to the layer of dirt accumulated through the 'years'. You can give it some scrubbing but you don't have to be perfect about it.
As you have seen above, these hard-to-reach places can actually be cleaned easily. You therefore don't have to ignore them because some of these places might be the cause of that weird smell in your home.