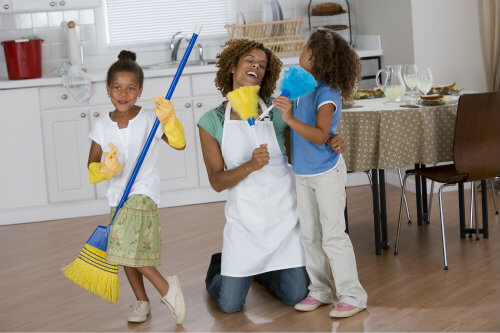 You are a mom who has a lot on her plate. Your daily planner may consist of driving the children to school, changing diapers, doing endless loads of laundry, planning out the family budget and taking the kids to all of their extracurricular activities. These are just a few of the things that are probably already on your to-do list that are also making it hard for you to complete any of the household chores.
Although you are often busy, you know that the house is not going just to clean itself. You may cringe at the thought of having to dedicate an entire day to cleaning every single room in the home. Luckily, you do not have to do that. There are tons of simple cleaning tips for busy moms that will make it easier for you to keep the home clean without the stress and frustration.
Use Your Time Wisely
You get the children down for bed, and you think to yourself, "Ah! This is the perfect time for me to sit and relax." Instead of heading directly over to sit down and rest, considering doing one last chore since the children are no longer in the way. In fact, you may want to choose one of the tasks that are often too difficult for you to do with the kids running around. Once you complete the task, you will feel relieved that you got it done and are ahead for the next day.
Take Advantage of Your Dishwasher
If you have a dishwasher and you have only been using it for your dishes, it is time for you to get in on a fantastic little secret. Did you know that you can wash some of your children's toys in the dishwasher?
Check before you place them in there because the last thing you want to do is destroy one of your child's favorite items. As long as they are dishwasher safe, plop them on in and let the dishwasher do all the work while you read a book, take a bubble bath or watch something on television without any of the interruptions that you deal with all the time.
Make Your Own Carpet Stain Remover
When you see the kind of stains that your children often leave on the floor, you probably say, "Why in the world did we get this carpet in the first place?" Keeping a carpet clean takes a lot of effort and time, but you may not have all of this time to work on it. Instead of spending hours scrubbing a stain out with soap and water, make a stain removal cleaner and let it soak into the carpet while you are taking care of other tasks.
You can mix baking soda with vinegar and use it for the stain removal process. Just squirt a bit of it on top of the stain and then keep it on top of the carpet for at least one hour. When the allotted time has passed, start scrubbing gently and watch as the stain begins to go away. Yes, it is that simple!
Some stains are obviously more stubborn than others. You may run into a few stains that seem nearly impossible to get rid of the first time around. In that case, continue using the carpet stain remover a few extra times to get the best results.
Remove Nearly Any Stain
Notice difficult stains on your children's clothing when you are trying to do the wash? Mix a bit of Dawn dish detergent with peroxide and scrub it right on the stain. Be advised that you should not use the peroxide on colorful clothing. However, it works well for white clothes and other things around the home, including stains on the walls and towels.
Give Your Bathroom a Quick Cleaning
The shower doors seem to have a bit of soap scum on them, and the bathtub does not look nearly as white as it once did, so you know that you need to do something about it. However, the bathroom may be your least favorite place to clean. If that is your current dilemma, there is some good news; you can take an easier approach to getting your bathroom clean.
For starters, stick the drain in the bathtub and pour bleach inside of it. Open windows to allow air to circulate through and do not hang out for long in the bathroom while the bleach is sitting. After allowing it to sit in the tub for an hour, rinse it out with hot water. The tub will look brighter and much whiter.
If you have some dryer sheets in the home, grab a few and take them to the bathroom. Wipe away that icky and annoying soap scum with the sheet. It will easily take it all off so that you no longer have to see the scum. You can use one of these sheets each time you start to notice that scum was lingering around your shower doors and walls.
Stay Organized With Your Cleaning
Make your planner or schedule for cleaning. It may be easier for you to get things done if you know what needs to be handled ahead of time. There are some days where you may not be able to get nearly as much housework done as you would like, especially if the children are keeping you busy. However, you can create an extensive list of all the things you would like to do and then mark them off as you go along.
If some of your children are old enough, do not forget to include them in on the household chores. You can have them clean their bedrooms, make beds, wash dishes and even sweep the floor. If you feel like being generous, you can offer some incentives to encourage them to get more cleaning done. After all, if they are helping out and getting work done, it means that you will have much less work to do.